WELCOME
27 years in Custom Knife Making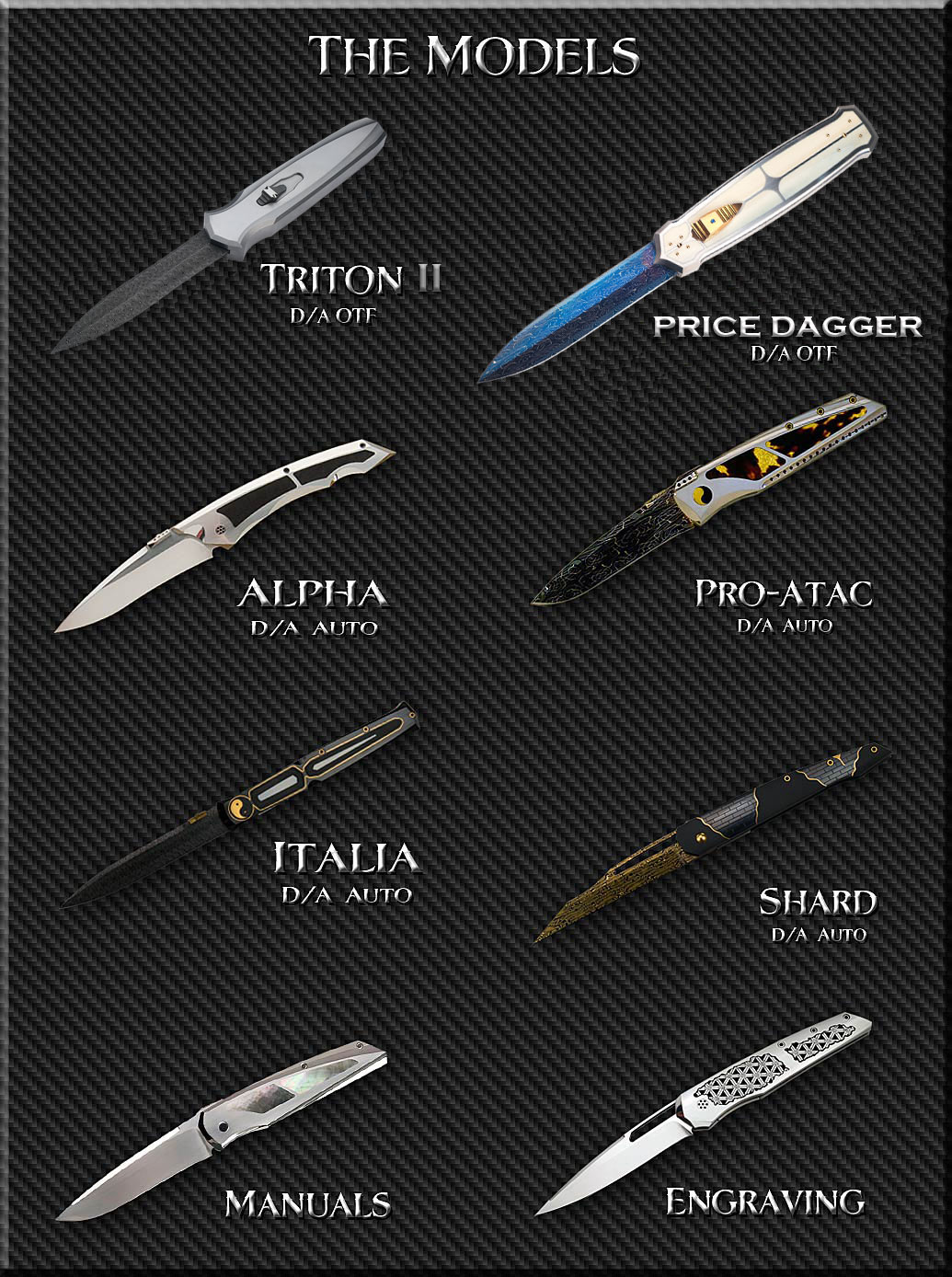 Thanks for visiting my site. Most of my knives are on a custom order basis, if you see something you like just give me a call and we can talk about the various options available for each knife, and build it to suit your taste. The majority of my knives are automatics, but every knife shown except the OTF's, have a "Mini" Auto version, as well as a manual version.

16 MAY 2018
KUTTER@CUSTOMKNIVES.NET

Tritons are once again available.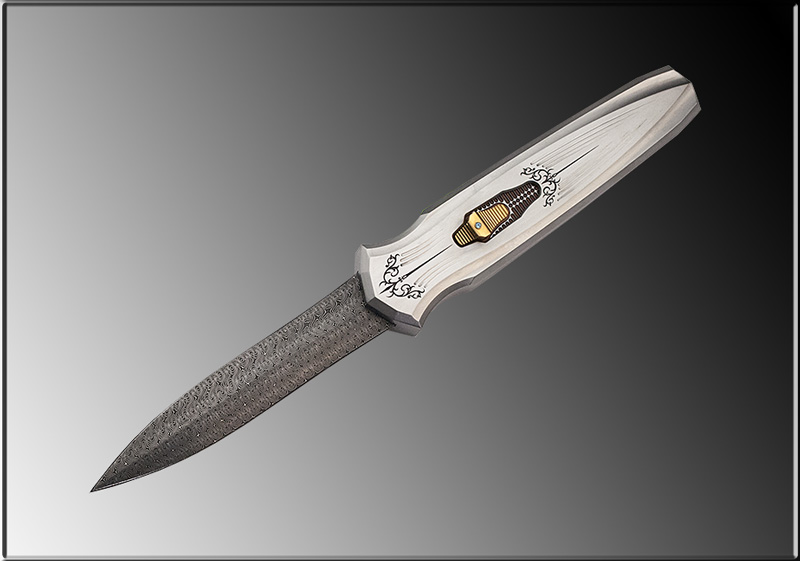 SS Triton II #1
416 Stainless steel frames, 2-tone satin and glass bead finish. Engraved and fluted by maker
Doug Ponzio Turkish Twist Damascus blade. 2 mm. Sapphire in 24k gold plated button on a Heat colored slide
Marked #1 on the side. SOLD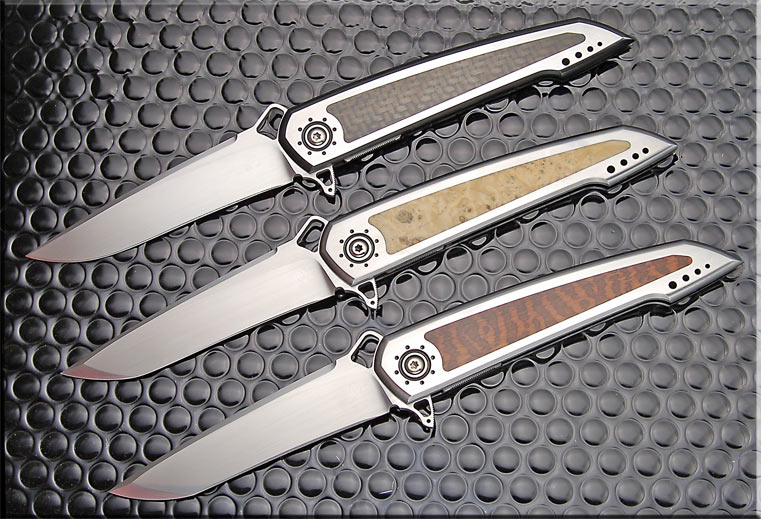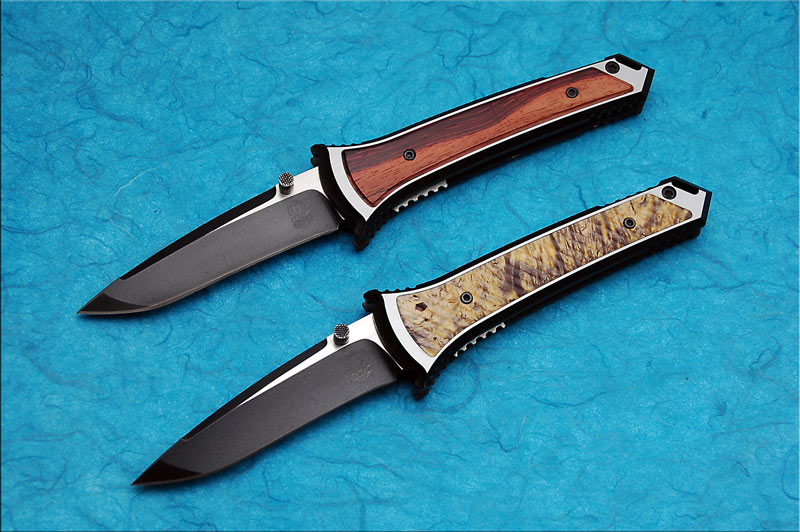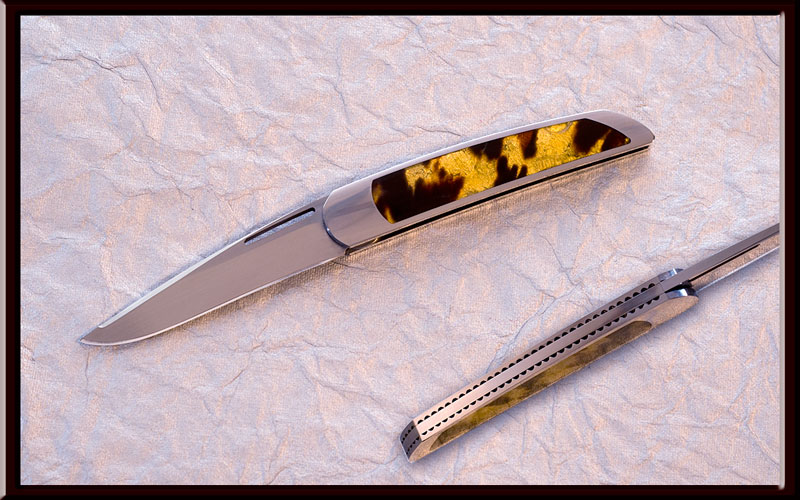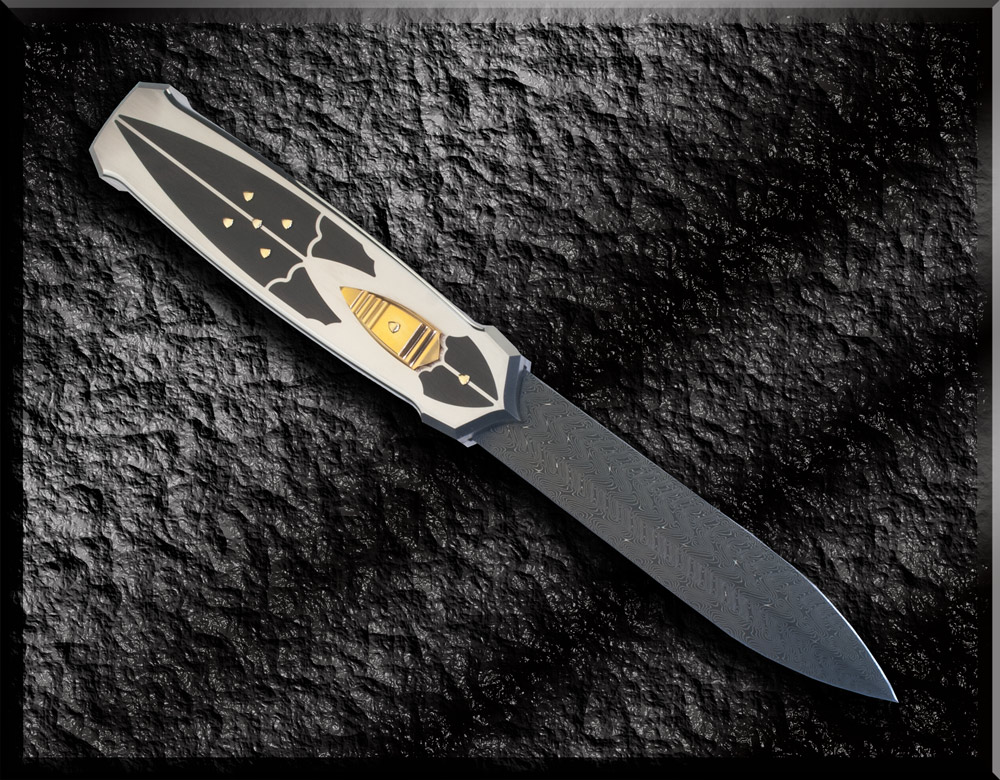 PriceDagger/Bowie

"SOLAR SYSTEM" Edition
Update May 25 2015
The new mechanism of the Triton will be incorporated into the Space knives that have not been completed.
I am also working on some limited edition D/A OTF's with the theme of our Solar System. These will all be one of a kind relative to materials and limited to 9, one for each planet. (I know, I know, Pluto is no longer a planet, but it was when I went to school). I believe this is the largest D/A OTF ever made and has a whole new adjustable mechanism. Lock-up is comparable to that of a fixed blade. This knife is around 13" overall and similar in shape to the art daggers of old. Prices for the 9 "Space" Knives will be around $8900. This is a ball park figure, as with a knife this large, a lot depends on the inlay materials and the amount of engraving. Just drop me a line or give me a call if you would like more information. Below is the prototype of the series.
2 of these in the series will be all Turkish twist Damascus. Please call or write for availability.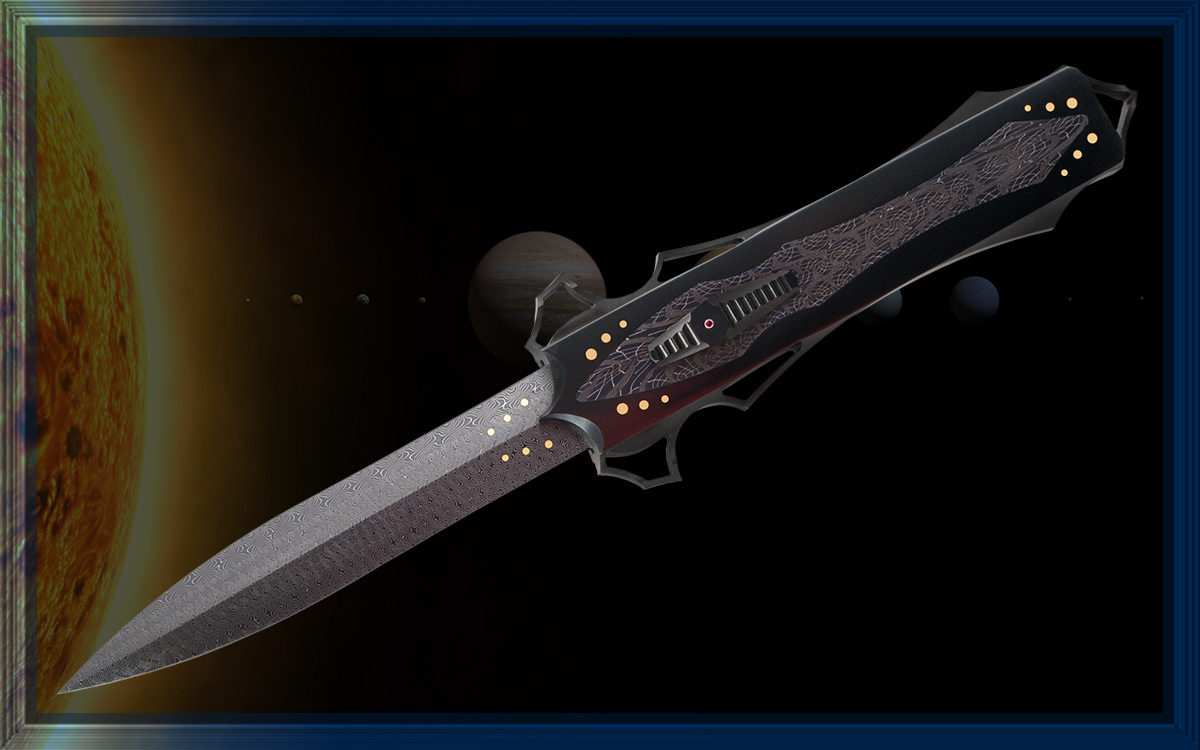 "Space" Prototype, Ponzio Turkish twist blade, Eggerling Mosaic inlays, Hot blued 4140 chrome moly frame. 36ea. 24k. gold inlays, 13" overall length. $9100.00 Sold
There are 2 "Planets" available.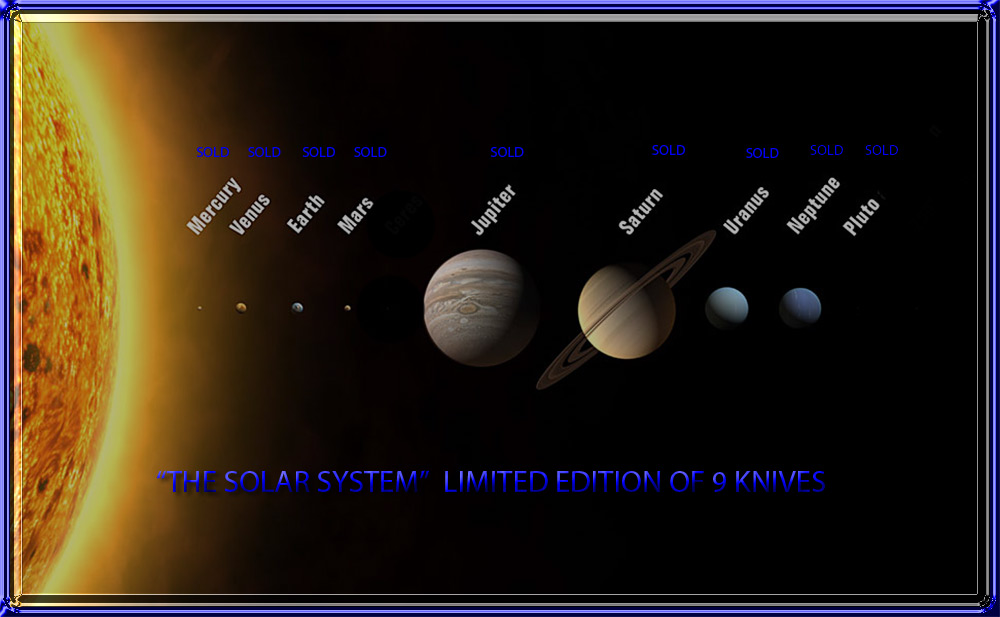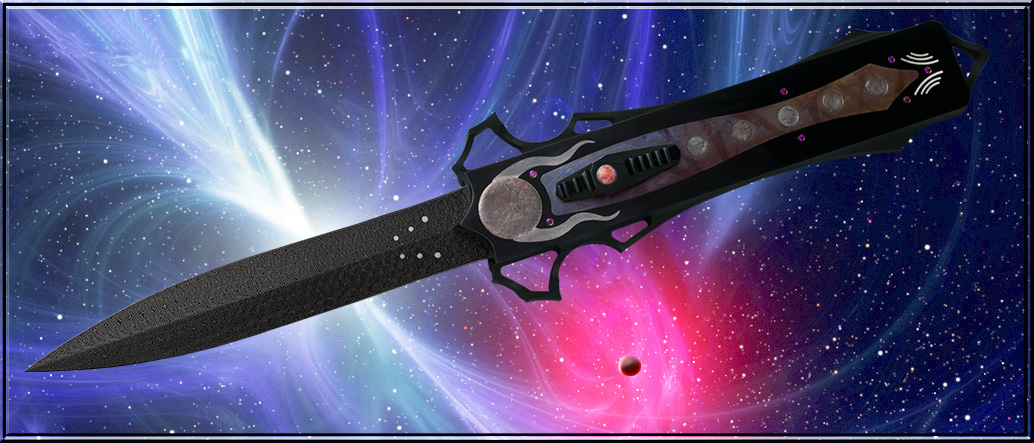 "Mercury", 2012
Meteorite and silver inlays as well as Nitre-blued carved and textured carbon steel inlays in the frame. Overall length 12 1/2" (318 mm), blade length 6 5/16" (160 mm). Doug Ponzio Turkish Twist Damascus blade and 4140 steel for the frames. Sold $12,500.00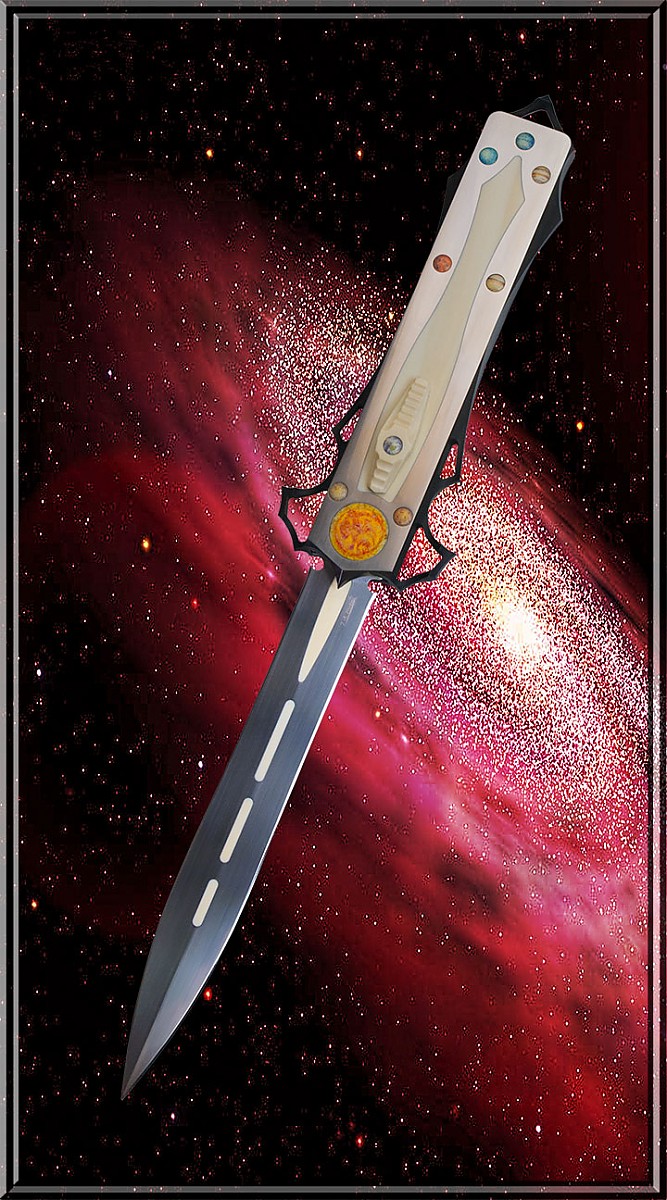 "The Master "Prototype, 2012
This OTF auto is a compilation of the whole series, with scrimshawed ivory domes (scrimed by Bob Hergert) featuring of all the planets and the Sun, as well as having a 2" longer blade with ivory inlays. Overall length is 14 1/2", blade length 8 5/16" (211mm). $13,500.00 Sold

I use primarily Damascus from Jerry Rados, Doug Ponzio, and my own Damascus. For stainless I use ATS-34 and 154CM. If you have a favorite forger or prefer a different steel just let me know. I do all the engraving shown, except for a few knives and they are listed with the engravers name.
OTHER STUFF FOR SALE June 2018

NEWER KNIVES ARE SHOWN BELOW.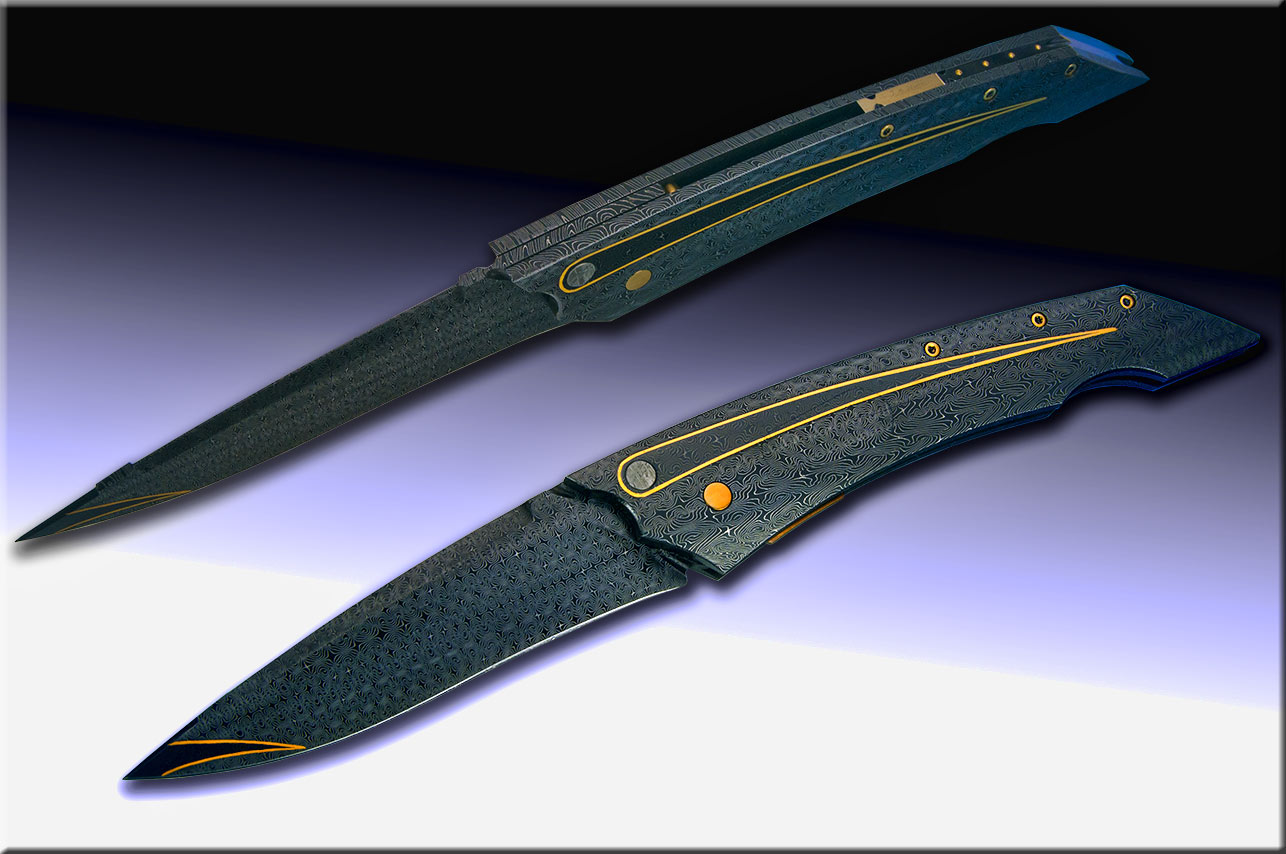 Alpha "Grande Comet". Doug Ponzio Turkish twist Damascus. Button is inlayed Damascus behind the gold pivot pin. Larger version of the Alpha at almost 12", and the largest auto I make except the "Italia Grande" shown directly below. 24kt gold inlay and meteorite. 5900.00 Sold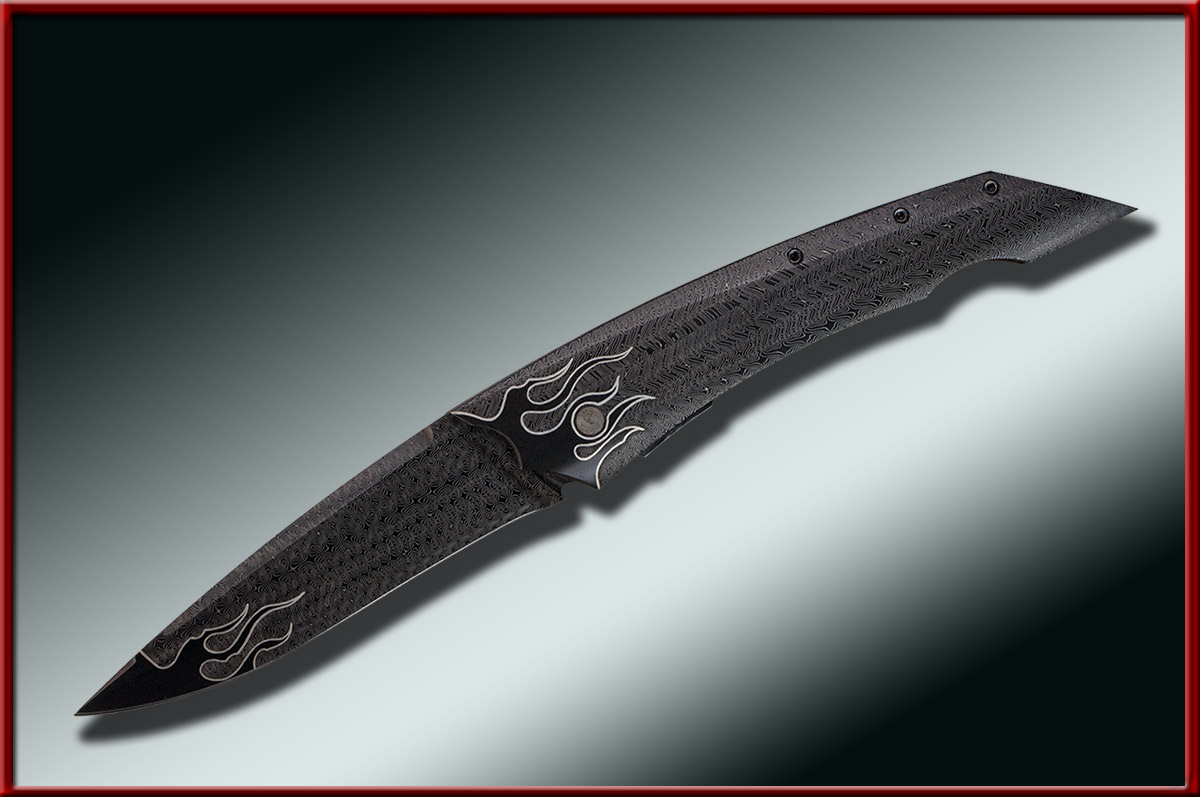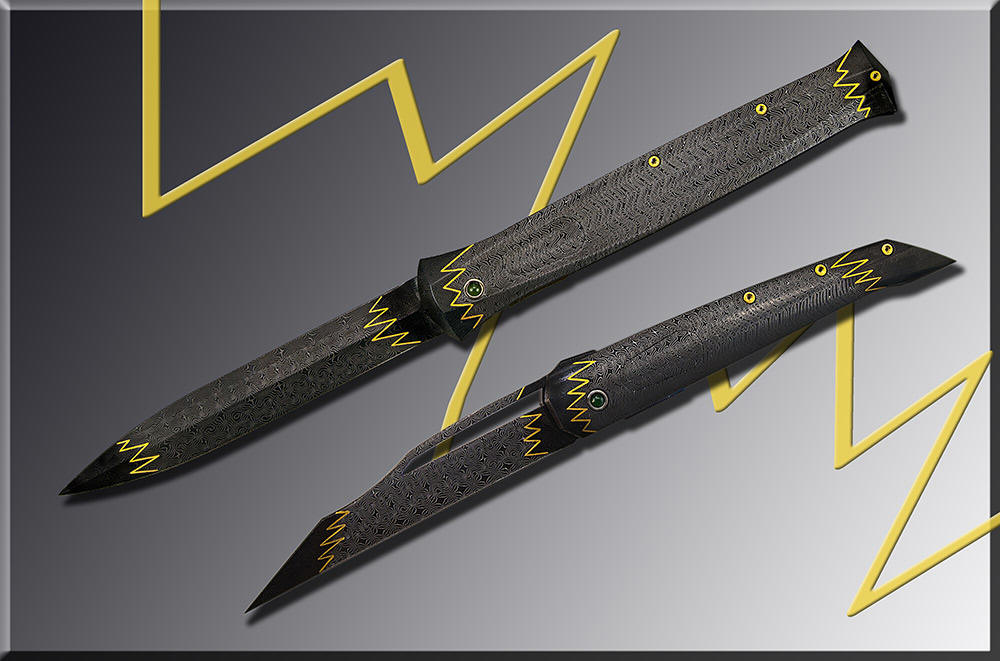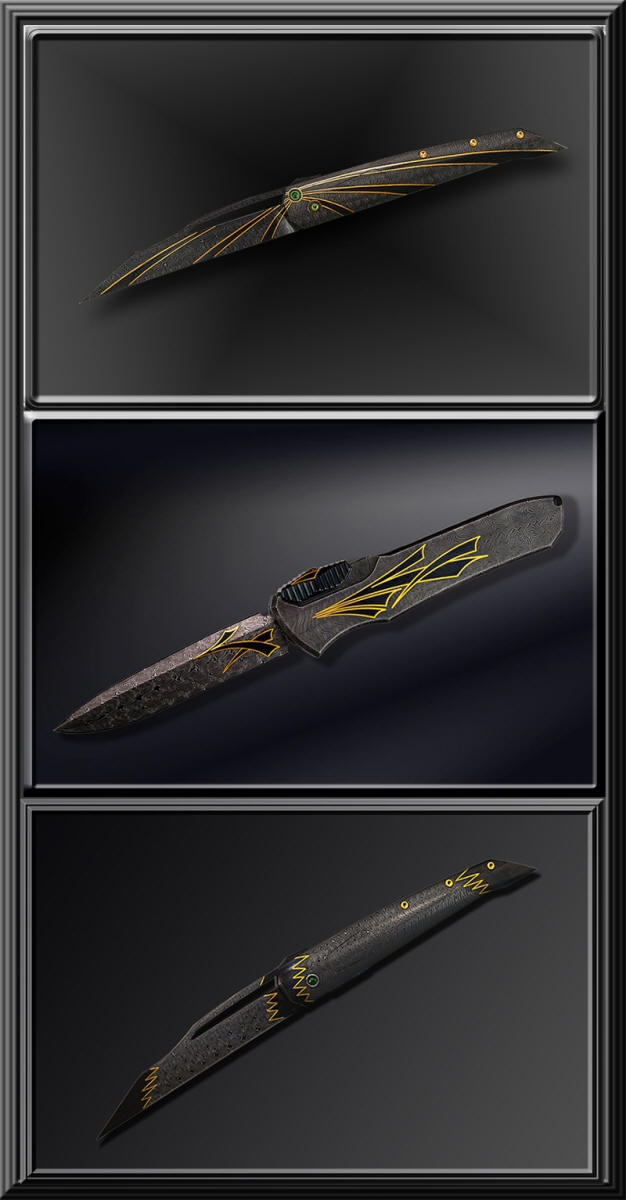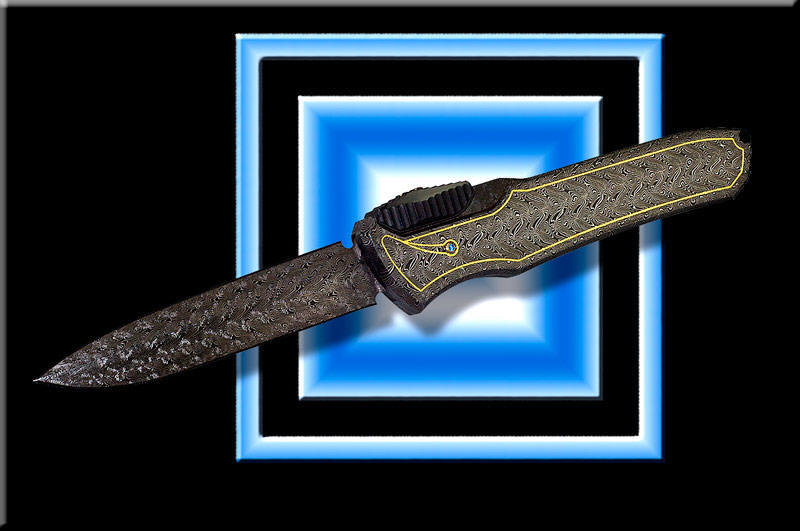 All Rados Turkish twist Q', 24kt gold wire inlays with sapphire. 5500. Sold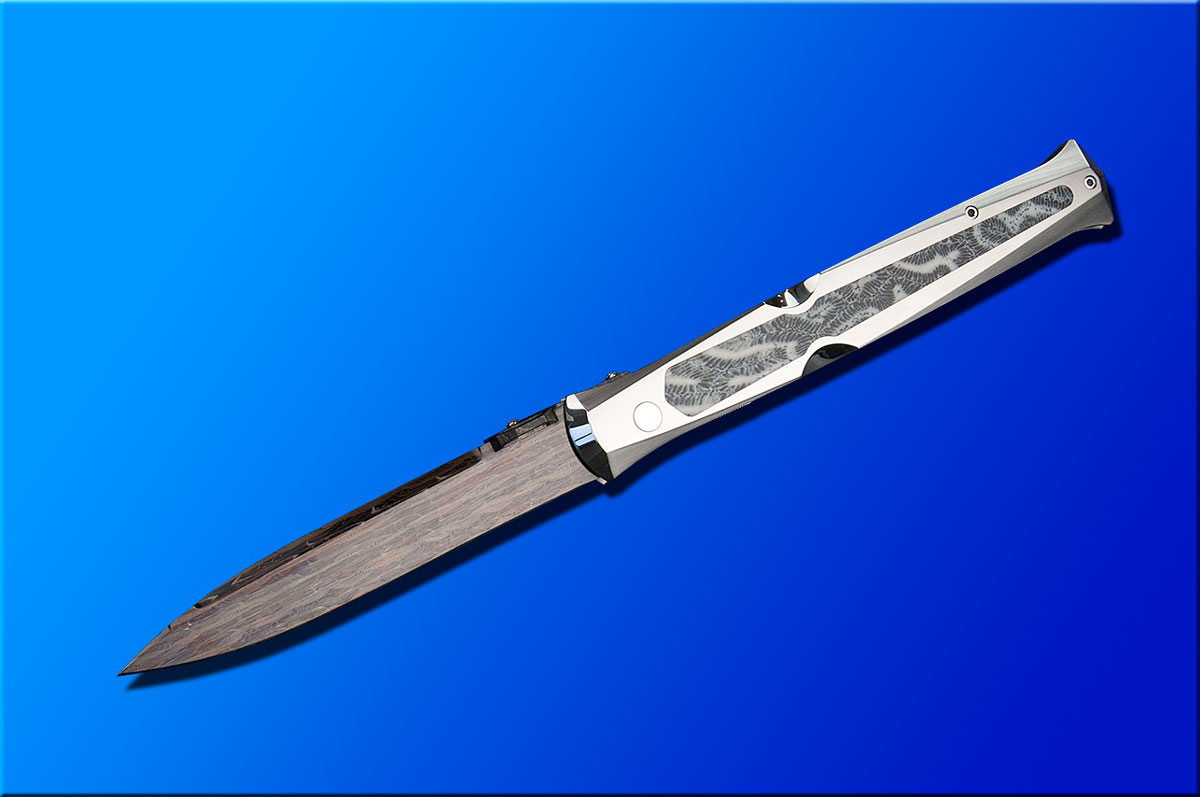 Manual Italia, #1, with brain coral. 10" overall. $2450.00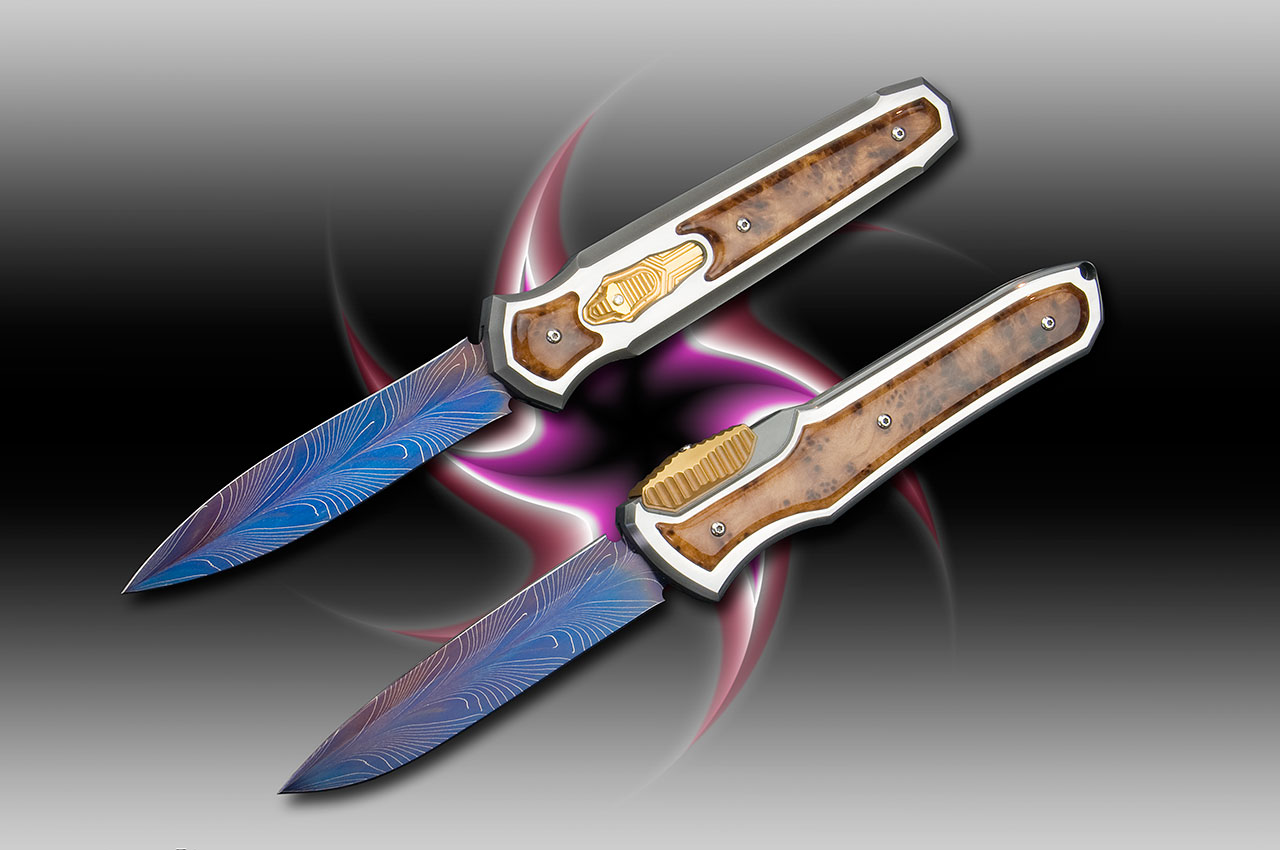 Matched set of D/A OTF'S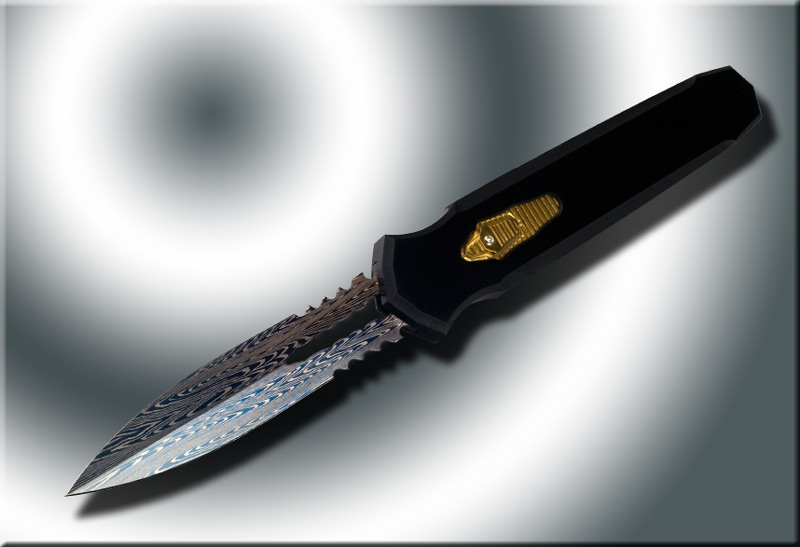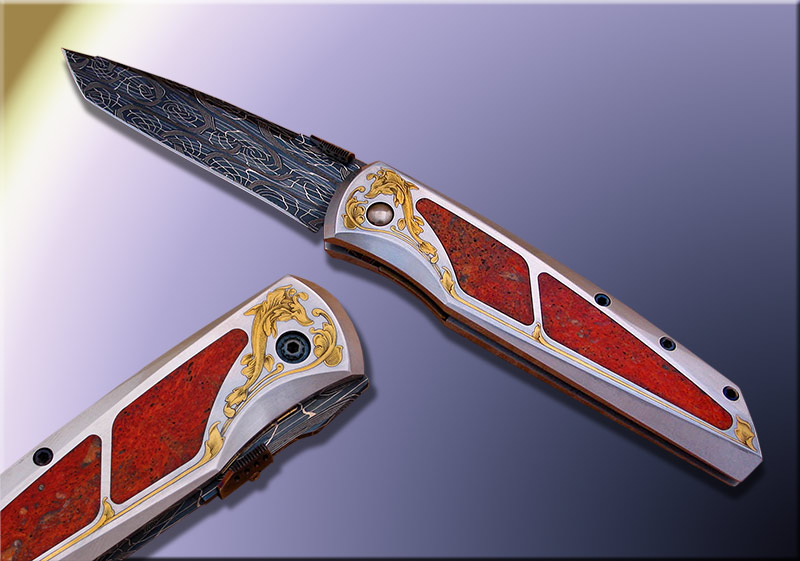 Proatac, D/A Auto. First inlay is the button. Eggerling Damascus blade with engraving by Tim Adlam. 4000.00 sold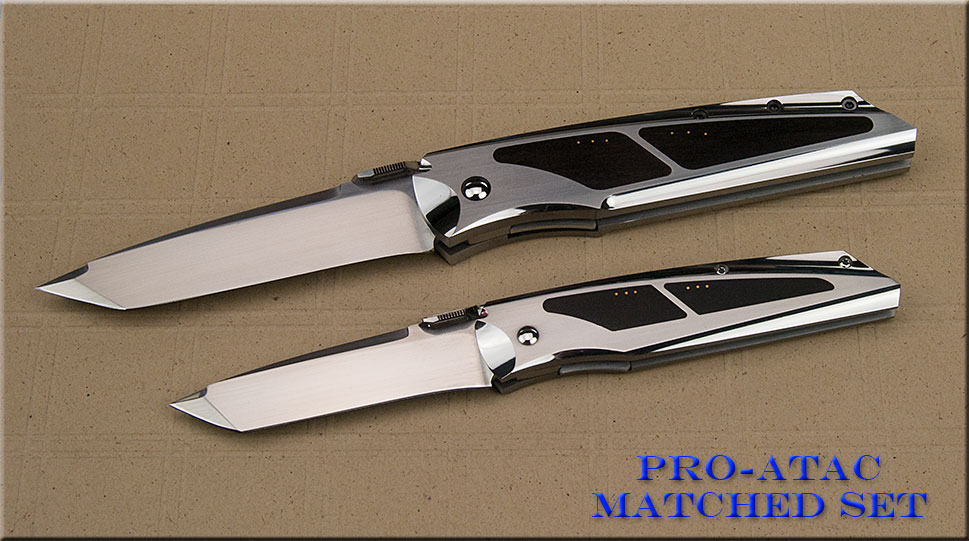 A Match set of Pro-Atac Xtremes, Regular size and a Mini version. 6250.00 sold
TRITON
(now discontinued in lieu of the Triton II)
DOUBLE ACTION OUT THE FRONT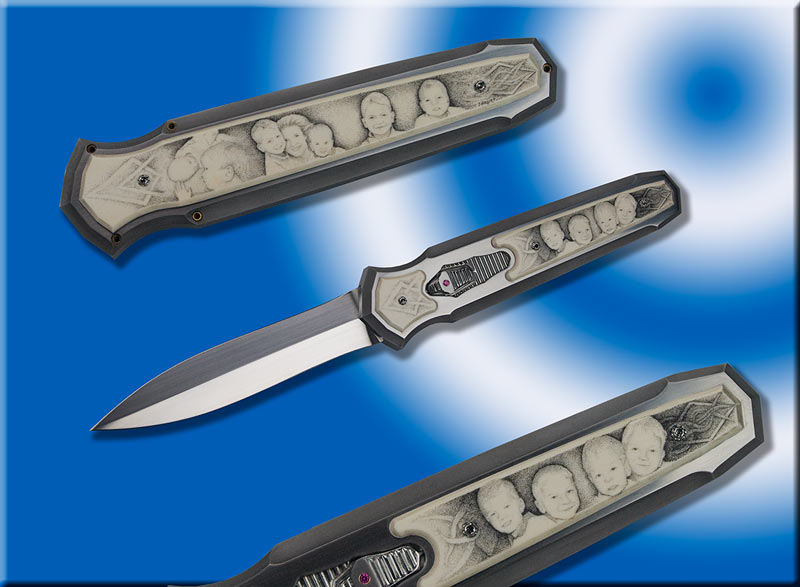 Commissioned By Jeff Davoud and scrimshawed by Bob Hergert, This Triton portrays his 2 sons at different ages. Elephant ivory overlays and Stainless construction. 3900.00 Sold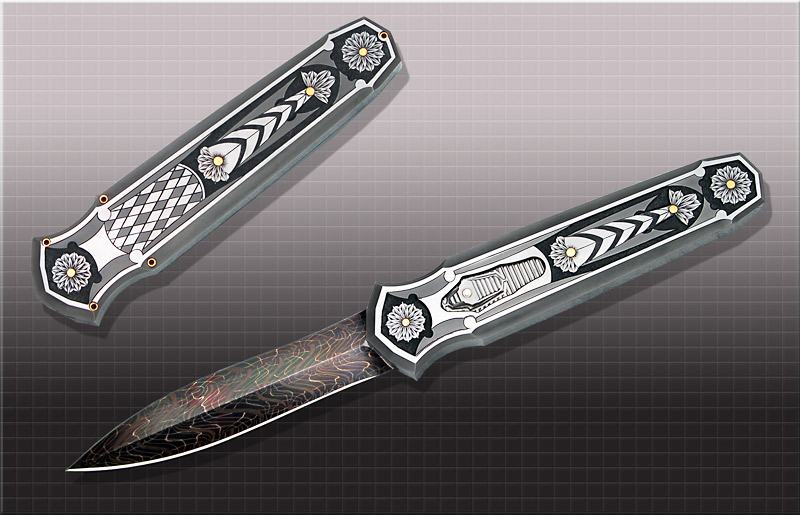 Rosette Triton. Heat treated 416 ss frames, Eggerling Damascus blade that is non-etched (polished for a ceramic look) and hot gun blued. The engraving is quite deep and has multiple tone texturing. The center of the rosettes are 24k raised gold and the button has a 2.5 mm. High grade diamond set in 14k gold. Engraved by maker. $4900.00 .Sold.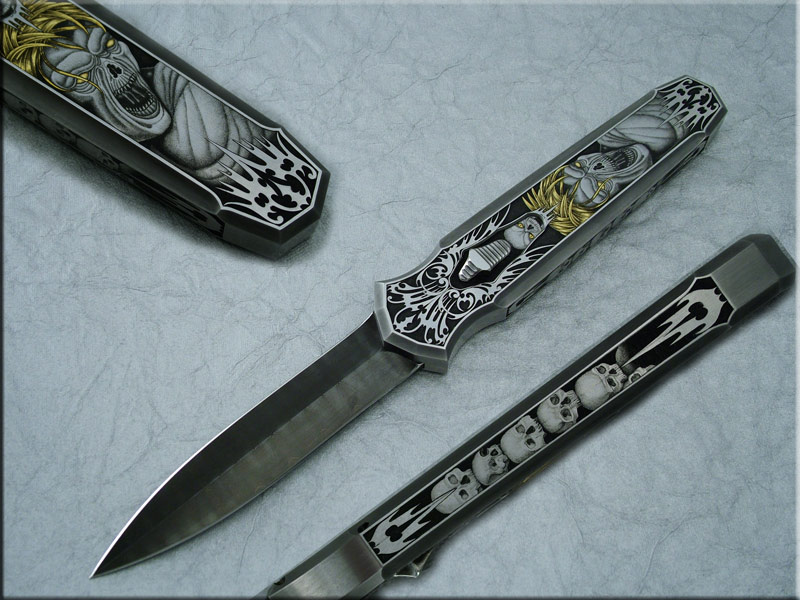 "GHOULS" Ray Cover engraved Triton with gold inlays. Jerry Rados Damascus blade. $7200.00 Sold.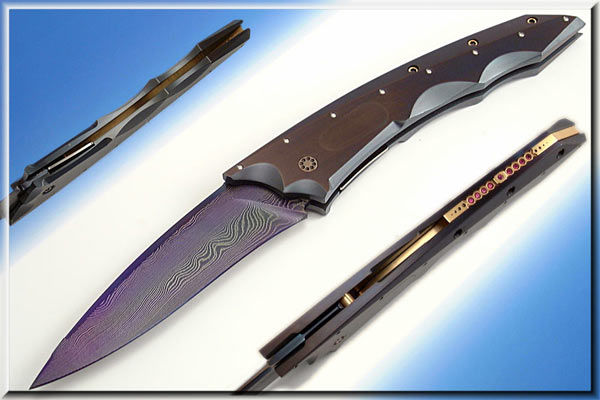 Midnight Alpha

ITALIA MARK II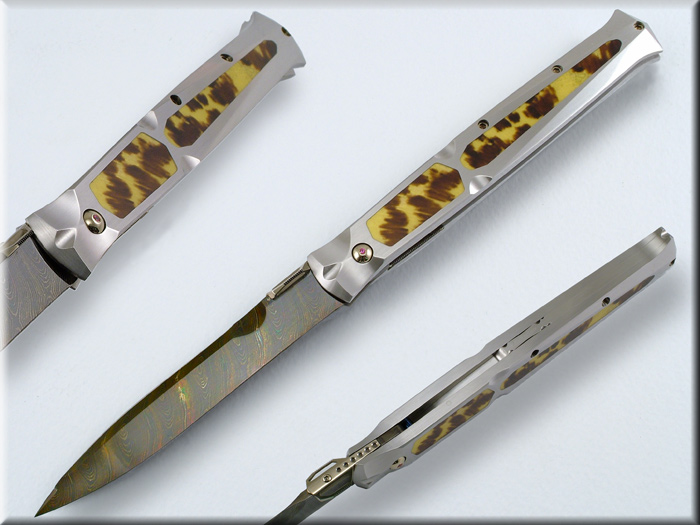 The BIG 10"...

PRO-ATAC
Double Action Auto
The first inlay is the button ON ALL MY d/a's or it can be thumbed open in the traditional manner.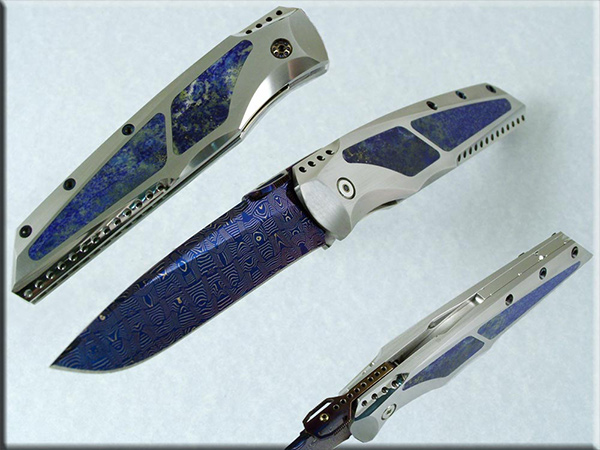 FOR MORE PRO-ATAC D/A Auto


Thanks For Looking
Updated MAY 2018
Contact Info
Jeff Harkins
P.O. Box 218
4974 Wolf Wind Lane
Conner Mt. 59827
406 . 821.1060

via Paypal